Introduction
Bachelor of Commerce is an undergraduate degree in Commerce and is offered at Colleges all across the country. The duration for a B.Com. the course is 3 years and students who have successfully passed their Higher Secondary Examination can get admission in the program. B.Com. is one of the popular undergraduate courses among students. B.Com. in India is available in three modes – B.Com. (pass course), B.Com. (Honors) and B.Com. (Vocational).
History of Commerce as a subject of education started with the establishment of educational institutes by the British in the Colonial era. Some pioneers in the area of commerce education were Commerce College in Calicut and Presidency College in Calcutta. Commerce Education began at the University level, with the establishment of Sydenham College of Commerce and Economics in Bombay. Since then the number of courses in commerce has multiplied with a number of students enrolling in Commerce Programs increasing every year.
Commerce is one of the founding pillars of any civilization. The purpose of a B.Com. course is to prepare individuals who are equipped with knowledge and skills related to economics and business management. It helps to provide a variety of managerial skills to an aspiring student.
Key Stats for B.Com. in India
| | |
| --- | --- |
| Program Duration | 3 years |
| Eligibility | 10+2 with Maths and English as core subjects |
| Number of Universities | More than 300 |
| Number of students enrolled in Commerce programs | More than 35 Lakh |
| Tution Fee for three year program | Ranges from 25000 INR to 500,000 INR |
| Average Salary | 1.7 to 8 Lakh INR |
Duration & Eligibility
With about 700 degree granting universities and 35,000 affiliated colleges, there is a wide array of choice in terms of college and institute. Some of the Top Institutes for Undergraduate Degree in Commerce are:
Sri Ram College of Commerce, University of Delhi
Goenka College of Commerce and Business Administration, Kolkata
Lady Sri Ram College for Women, University of Delhi
Loyola College, Chennai
Christ University, Bangalore
Madras Christian College, Chennai
Xavier's College, Mumbai
Correspondence Mode of Study
Students who for some reason can not pursue B.Com. through the regular method can always opt for correspondence mode of study. Some of the top universities in India offer B.Com. (Pass) and B.Com. (Honors) in the correspondence mode also. Some of these universities are:
School of Open Learning, University of Delhi
Indira Gandhi National Open university
Annamalai University
Allahabad University
Jamia Millia University
Karnataka State Open University
Bangalore University etc.
Learning Objectives
Ideally a student of B.Com. on graduating is expected to have acquired basic knowledge in a variety of fields related to an organization and business management. A B.Com. degree holder is fit to work in any corporate organization or be self-employed. B.Com. graduates possess a variety of skills like accounting, tally, human resource management etc.
B.Com. (Pass), B.Com. (Honors) & B.Com. (Vocational): What is the difference?
Indian Universities offer three kinds of B.Com. courses – B.Com. (Pass), B.Com. (Honors) and B.Com. (Vocational).
| | | |
| --- | --- | --- |
| B.Com. (Honors) | B.Com. (Pass) | B.Com. (Vocational) |
| Students are given an in-depth knowledge of subjects and can specialize in subjects like Economics and Accounting etc. | Students are given an overview of the subjects and there is no option for specialization in a particular subject. | It is a skill based and job oriented course and students can specialize in skill-based subjects. |
Eligibility Of the Bachelor of Commerce [B.Com]
The basic eligibility for admission to any of the B.Com. programs is a pass in Higher Secondary School Examination with Maths and English as core subjects. However, different universities release cut-offs. Cut-offs largely depend on the performance of students in the 10+2 exams and the number of qualified students applying to the course. Though, there is no work experience required for the course, students with work experience can also apply.
Admission Process
B.Com. is an undergraduate course and admission process to this course typically starts after the results of Higher Secondary Examinations are declared. Admission to this course is usually merit-based, however, some colleges might conduct Entrance Tests for admission to this course.
Admission Process typically starts in the month of May every year, when universities and colleges release their application form. Entrance Tests are conducted at the end of the month of May or the beginning of June. Results are declared around the mid or end of June and simultaneously admission process starts. Classes begin in the end of July and beginning of August.
A student seeking admission to a B.Com. course will have to go through any of the following processes: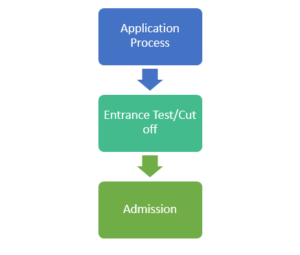 In case of admission through cut-off percentage, students are required to secure equal to or more than the cut-off percentage. In the case of Entrance Exams, a student needs to have secured a minimum percentage in 10+2 as prescribed by the university/college.
Entrance Exams
While some universities release cut-offs for admission to the program and offers admission on first come first serve basis, there are many colleges and universities which conduct Entrance Tests. Some of the universities which conduct Entrance Tests are:
Narsee Monjee Institute of Management Studies, Mumbai
Jamia Milia Islamia University, Delhi
Banaras Hindu University, Varanasi
Guru Gobind Singh Indraprastha University, Delhi
Academic Options after Bachelor of Commerce
Not necessarily all students who complete their Bachelor of Commerce degree, settle for a job. Many students aspire for further studies. For such students, there are numerous good options available. Below is a list of options available in the academic field after completion of B.Com.
M.Com. – Master of Commerce or M.Com. is a postgraduate degree in commerce and is an extension of B.Com. You should go for M.Com. if you have an urge to study commerce subjects and gain a deeper insight of how an organization works. All major universities in the country offer M.Com. program. Generally an entrance is held for admission to this program.
MBA – Master of Business Administration or MBA is one of the popular options for Bachelor of Commerce graduates. A B.Com. degree gives an edge to MBA aspirants as some of the subjects taught in B.Com. are repeated in the curriculum during the first year of MBA.
 CA – Chartered Accountancy or CA can be pursued with or after the B.Com. course. A background and understanding of commerce helps in the completion of the CA course. Since Accounts is a compulsory paper for B.Com. students, it is helpful when pursuing CA.
CS – Company Secretaryship or CS is another popular option and can be pursued along with a b.Com degree. CS prepares an individual for regulatory roles in an organization.
ICWAI – ICWAI prepares cost accountants who control and manage cost of an organization. This course can also be pursued vis-à-vis graduation.
CFA – Chartered Financial Analyst or CFA is also a professional course and gives a deeper understanding of the financial aspects in an organization. It spans a wide variety of subjects like Economics, Derivatives, Accounting, Portfolio Management, Funds etc.
Law – A student can also opt for LLB after B.Com. With Business Law as part of the curriculum, it is also a viable option.
Actuarial Science – Actuarial Science is an offbeat discipline but also has high-paying potential. Actuarial Science helps an individual to develop mathematical and statistical skills to assess risk in finance, insurance, and other industries.
CMA – Certified Management Accountant or CMA is a professional course and helps an individual to learn skills pertaining to financial planning, control, analysis, decision support and company ethics.
CFP – Certified Financial Planner or CFP is a professional degree for financial planners and is ideal for students who wish to pursue a career in Financial Planning.
An aspiring student should select one of these courses as per their interest and the career they wish to pursue. There is no dearth of option available for B.Com. graduates, you only need to open your wings.
According to a Report in Global Financial Monitor, there is an increasing demand for accounting and finance professionals in the corporate industry. This implies that there are enough job opportunities for undergraduates with a Bachelor of Commerce degree.
Career options available after a B.Com. degree are endless. Job opportunities range from roles in Finance and Accounting, Banking Industry, Corporate Sector etc. Some of the sectors which employ B.Com. degree holders are Banking, Media, BPOs, Tourism Industry, Hospitality , FMCG Telecom etc.
Career options available in Private Sector
There are various roles available in the Private Sector for B.Com. degree holders. Some of the roles and areas of function for students with B.Com. are:
Accounting
Administrative
Auditor
Human Resource Department
Network Marketing
Promotion and Advertising
Banking and Insurance
Market Research
Event Management
Career options available in Public Sector
Individuals with a B.Com. degree can apply for many government vacancies. There are also jobs in public sector which require specific skills in accounting and statistics. Some of the jobs available in Public Sector are:
Bank Manager
Statistical Officer
Accountant
Indian Defense Accounts Services
Civil Services etc.
Offbeat Career Options
There are certain non-traditional options in terms of a career path after B.Com.
Content Writer– In last few years, there has been an increase in demand for Content Writers. If you have a flair for writing, this might be the ideal job for you.
Teacher– If you have an aptitude for teaching, you can get an additional B.Ed. degree and teach in schools.
Job Prospects
A B.Com. course imparts the basic knowledge about trade and commerce practices in society and prepares a student for job opportunities in a wide variety of sectors. A B.Com. graduate can work in both public and private sectors. They are fit to work in a variety of industries and take on varied roles like administration, hospitality, accounting, marketing, retailing, production planning etc.
Top Job Profiles for Bachelor of Commerce Program
Accountant
Financial Advisor
Executive
HR Manager
Account Executive
Chartered Accountant
Financial Analyst
Tax Consultant
 Top Recruiting Companies
There is no dearth of job opportunities for candidates with Bachelor of Commerce degree. It is already established that B.Com. graduates can work in a wide variety of roles. Some of the top recruiters for B.Com. graduates are:
Genpact
Accenture
Infosys BPO
IBM
Deutsche Bank
Wipro
Convergys
Dell
HP
Contacts Us: +91 8422966604
Email At: support@askintelligent.com
Address
Head Office: B-103, Laxmi Shpooing Centre, First Floor, Hirachand Desai Marg, Near New Post Office, Ghatkopar (W), Mumbai 400 086.
Malad Branch: 203 Banarasi Heritage, Near Rustamjee Elanza, mindspace, Malad (W), Mumbai 400 064.
Belapur Branch: Office No. 219, NBC Complex, Plot No.43, Sector-11,CBD Belapur, Navi Mumbai.